Blog
Welcome to the 3drops wine and olive oil blog! We can't wait to share all our wine tips and latest news with you.


2022 is a very special year for us as we welcome our first Nebbiolo still red wine to the 3drops family.
The 2021 3drops Nebbiolo can be purchased online here.
Where it all started..
The original 3drops vineyard was planted in 1999 on the family farming property at Mount Barker in the Great Southern.
In 2002 we decided to plant a few additional varieties and my late father was keen on the idea that we should trial an Italian red. After much research we decided on Nebbiolo and managed to source Nebbiolo vine cuttings from Margaret River. As with the rest of our Wragg Road vineyard the Nebbiolo was planted by 3drops viticulturist Ray Williams.
My father passed away in 2003 and we spent the next few years wondering what we would use the Nebbiolo grapes for.
The Nebbiolo vine is challenging – it flowers early, ripens late and sometimes struggles to become fully ripe. It is also a very expressive variety and will pick up the characteristics of its terroir. For a number of years, we sold our Nebbiolo fruit.
For five vintages from 2016-2020 we have made a Nebbiolo Rose' which worked well, given that the fruit can be harvested a little earlier to create a rose'.
However, in 2021, nearly 20 years after planting the vines, vintage conditions allowed us to create an aromatic and intensely flavoured Nebbiolo red wine.
Let's take a look at the stats...
The numbers and dates you need to know:
Alc/vol: 14%
Harvest date: 24 March 2021
Bottling date: 16 August 2022
pH: 3.2
Titrable Acidity: 9.7
How it was made...
Machine harvested fruit off 20-year-old vines. Fruit destemmed and crushed to two, 2 tonne open top fermenters for fermentation. Plunged three times daily during active ferment. First fermenter was pressed off skins after 12 days, second fermenter underwent extended maceration for a total of 28 days before being pressed. Both batches were matured in mix of older French oak Barriques and Hogsheads for up to 15 months. Blended before bottling.
What you can expect in your glass...
Colour
Medium bright ruby
Nose
Fruit characters of cherry and raspberry are supported by aromas of rose petal and anise. Intensely aromatic, the wine also has savoury, leathery notes. Intriguing and seductive.
Palate
This wine is classic Nebbiolo, with concentrated sour cherry and raspberry fruit characters. These fruit characters are balanced by tight, but lingering acidity, earthiness and typical Nebbiolo tannin structure. There is a subtle negroni-like bitterness at play, keeping
the juicy fruit in check. The two batch treatments are working in harmony, layering complexity, and creating balance. Tannins are firm, and framing the mid to back palate, working with the bright acidity to create drive into a long savoury.
Nebbiolo's notoriously colour-light but tannin rich skins are a critical factor in making this wine. Fruit intensity, structure and balance are the result.
Food pairings
Perfect pair for a non-lean cut of meat or creamy cheeses. Also a great accompainment to sausage and bean risotto, slow braised ragu or truffles with fresh pasta.
Ageing potential
Will gain complexity for 15+ years.
---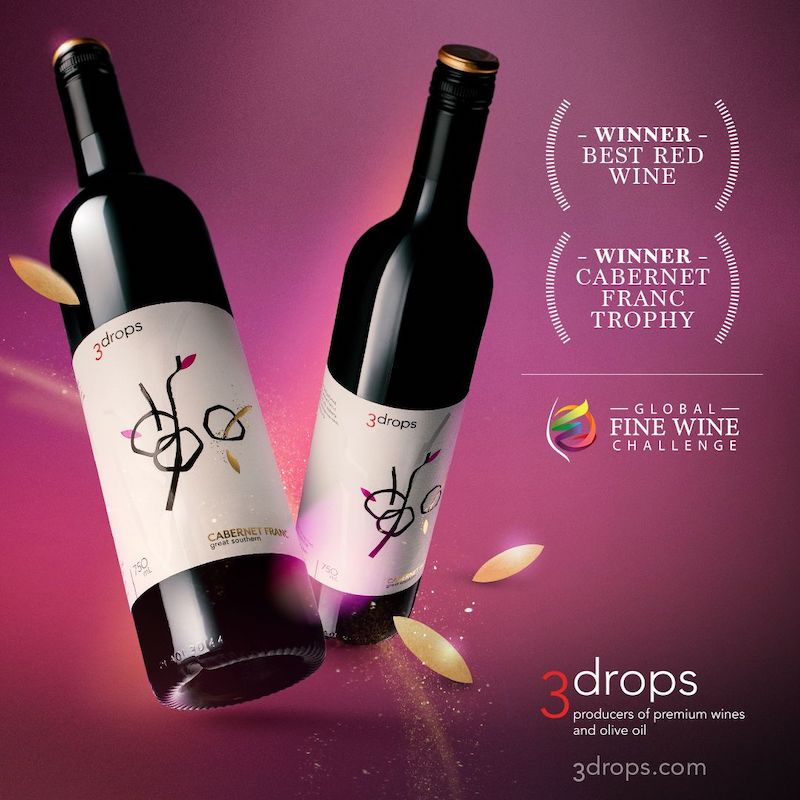 Mt Barker winery 3drops has won one of the world's most prestigious wine awards for its 2018 Cabernet Franc.
The wine was named Best Red in Show at the invitation only Global Fine Wine Challenge with results announced today.
It also won top trophy honours in the Class 15 – Cabernet Franc in the competition which features the best New World wines.
The competition is restricted to the top 120 wines from each country, including Canada, New Zealand, North America and South Africa.
Global Fine Wine Challenge Director, Ross Anderson said the award to 3drops:
"is a phenomenal result when you look at the wines they were up against, it is just staggering".
Mr Anderson said the awards were akin to the Olympics of the wine industry with countries competing against each other.
The awards, previously known as the Six Nations Wine Challenge (est: 2003) didn't run last year because of COVID-19 restrictions, but in 2019 was dominated heavily by entries from New Zealand
The 2019 Wine of Show went to Canada's 2013 Henry of Pelham Family Estate Cuvee Catharine Cart Blanche Blanc de Blanc. The 2019 Red Wine of Show went to America's Hartford Family Winery Dina's Vineyard Old Vine Zinfandel 2016. New Zealand's Church Road Grand Reserve Chardonnay 2018 took out the 2019 White Wine of Show.
The last time an Australian wine won Wine of Show was in 2017 when Xanadu Reserve Chardonnay 2015 took out the Chardonnay trophy, White Wine of Show and Wine of Show awards.
There are no recorded Australian Red Wine's having ever secured the Red Wine of Show trophy.
Owner of 3drops, Joanne Bradbury, said the award was a credit to the efforts of winemaker Rob Diletti who had been making 3drops wines since 2003 and to viticulturist Ray Williams who planted the original vines and still manages the Wragg Road and Patterson's vineyards.

Ms Bradbury said the Cabernet Franc trophy and the Best Red of Show were 3drops most significant awards to date.
"We are excited and honoured that a Cabernet Franc grown on our family farm has been selected as the best red wine in the Global Fine Wine Challenge."
3drops has been invited to participate in the awards several times in the past and has previously received a gold medal for its 2017 Merlot in the competition.
"Being able to benchmark our wines against other New World wine producers is extremely valuable," Ms Bradbury said.
"As a boutique producer, in a relatively isolated and distant wine producing region, winning the Cabernet Franc trophy and the Best Red of a global show is an opportunity to showcase the 3drops brand and the Great Southern region on the world stage.
"It's also an opportunity to celebrate Cabernet Franc as a stand-alone variety, as it is often grown just for blending with other Bordeaux varietals.
"Despite making our 3drops Cabernets blend since 2001, the 2018 vintage was the first time we produced a varietal Cabernet Franc.
"As our Cabernet Franc vines have matured (they were planted in 1999) we have seen the quality of the fruit become quite exceptional. Cabernet Franc as a variety appears particularly well suited to the cool climate wine growing of our Great Southern vineyard. The vines grow on a gentle south facing protected slope in ancient gravelly loam soil."
3drops is one of three Australian winners in the Global Fine Wine Challenge this year.
Morris of Rutherglen picked up the inaugural trophy for fortified wines and Thistledown Wines in the Adelaide Hills picked up the Other Red, (Light to Medium) trophy with their Sands of Time Grenache.
Mr Anderson said the quality of wines this year was the best for the past 10 years.
"This year far exceeded my expectations in every way," he said.
Because of Covid judges couldn't be flown in for the judging in Sydney so for the first time ever a panel of Sydney-based Masters of Wine were nominated to judge the show.
Mr Anderson said there are 420 Masters of Wine in the world who provide a global view of wine rather than a regional or country specific view, which made the Global Fine Wine Challenge significant as an international wine authority.
For more information or interviews contact Newton Ganska Communications on (08) 6468 4489 or info@newtonganska.com.au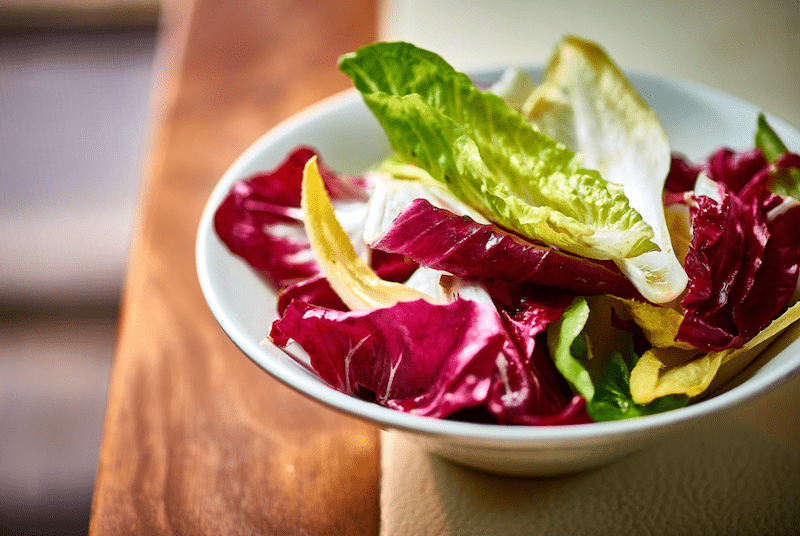 In 1998 3drops commenced the planting of 2000 olive trees, the main variety being Frantoio which seemed to particularly suit Western Australia's Great Southern region.
Our 2000 mature olive trees produce an Australia extra virgin olive oil (EVOO) with distinctive cool climate characteristics which our customers and chefs love to use!
We recently asked Executive Chef, Dan Masters, of Rockpool Bar & Grill in Perth what olive oil salad dressing recipe he would recommend using our proudly Western Australian made olive oil in and this is what he suggested:
Palm Sugar Vinaigrette with 3drops EVOO
Ingredients:
30g grated palm sugar (jaggery)
2 teaspoons of sherry vinegar
2 coriander (cilantro) roots, scraped
1 garlic clove
Sea salt
1 & ¼ tablespoons red wine vinegar
80ml 3drops extra virgin olive oil
2 tablespoons chopped coriander
Method:
Place the palm sugar in a small saucepan over medium heat and cook, stirring to dissolve the sugar, until it is a deep caramel colour. Carefully add the sherry vinegar, as it will spit, and cook for 2 minutes. Remove from the heat and allow to cool.
Meanwhile, pound the coriander roots, garlic and a little salt in a mortar with a pestle until you have a fine paste. Add the palm sugar mixture and red wine vinegar, then gradually whisk the olive oil in.
Add chopped coriander and drizzle over a fresh salad.
Executive Chef, Dan, suggests to drizzle it over a Radicchio, Cos & Endive Salad.
Health Benefits of Extra Virgin Olive Oil
Here at 3drops, we love extra virgin olive oil for its many health benefits. It's a natural liquid full of antioxidants and healthy fats. As the Dieticians Association of Australia say on their website, extra virgin olive oil is great for:
Weight control
Heart health
Olive oil is part of a Mediterranean diet and we find it absolutely perfect for the Perth and Australian climate all year round. Evidence shows, those who stick to a Mediterranean diet typically have lower body weight and maintain this for longer - which is a win-win in our opinion!
For further information about Australian and Western Australian olive oil, we'd recommend checking out the below websites: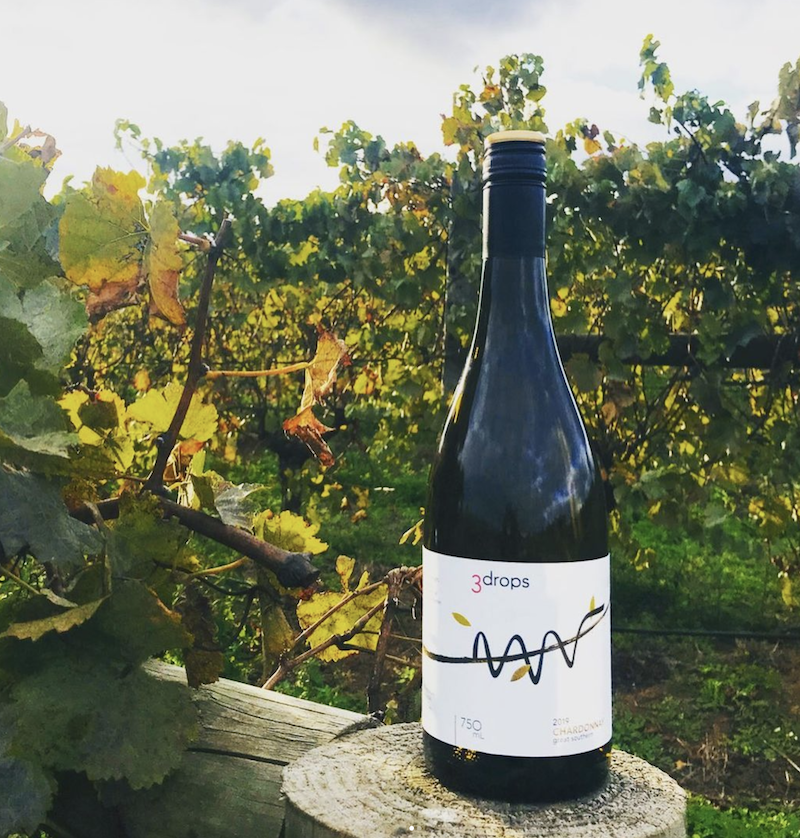 If you love Chardonnay, then you have come to the right place.
Let us let you in on a little secret.
Shhhhh...
Great Southern Chardonnay is one of Australia's hidden gems in the wine world!
The Great Southern wine region is known for its world-class Riesling and Shiraz, however the Chardonnay produced in this Western Australian wine region is something pretty special too.
So why should you go and grab a glass of Great Southern Chardonnay right now? Here's why:
1. The Great Southern has the perfect climate for Chardonnay
The Great Southern is the coolest wine region in Western Australia (recently it was only 12 degrees when our Nebbiolo Rose was being bottled - and winter has only just begun!).
It's this cool climate that Chardonnay grapes thrive in. Every grape variety typically has a preference and Chardonnay joins the likes of Pinot Noir and Sauvignon Blanc who prefer those cooler climates.
2. Great Southern Chardonnay matches so well with food
Cool climate Chardonnay typically match very well with food because they have a nice balance of acidity and fruit flavours.
We've really done the groundwork for you on this one as we've had the pleasure of working with many of Perth's top chefs to find the perfect Chardonnay food matches.
Therefore, when you next have a glass (or better yet, a bottle) of Great Southern Chardonnay, perhaps consider teaming it up with one of these food matches:
Fish - From takeaway night 'fish'n'chips' to spiced swordfish (like our friends at Samson's Paddock suggested), you'll find fish a great match
Chicken liver pâté - If you're a pâté fan then it's nearly illegal not to match it with a big bowl-like glass full of Chardonnay
Cheese - Seriously, you can't go wrong with ooey, gooey cheese and Chardy. Whether you have it straight from the block or have a cheese infused dish - your palate will thank you.
Hummus - Hummus is not the typical food match you hear to pair with wine. But my oh my, it is divine with Chardonnay! Between the creaminess in the wine and the creaminess in the hummus, it really helps to bring out the fruit flavours in the wine and the garlic/spice in the hummus
Baked oysters - For all you oyster lovers out there, you need to get onto this one asap. Baked or grilled oysters and Great Southern Chardonnay will literally have you weak at the knees. The Chardonnay has the richness to compliment the baked oysters so well.
3. Don't just take our word for it
We're not the only ones who have one big fat crush on Great Southern Chardonnay. Many of the wine pros and aficionados also have been let in on the secret.
The likes of Ray Jordan, James Halliday and Huon Hooke have rated and continue to rate many Great Southern Chardonnay's in the high 90s annually.
4. Great Southern Chardonnay tastes great!
Most people either love or hate Chardonnay. The thing is, it comes in so many different styles that it's really hard to fall into the latter camp without trying them all; sparkling, still, dry, sweet, oaked, fruity, light bodied, full bodied, etc.
When it comes to Great Southern Chardonnay, the style typically leans towards being vibrant and elegant with flavoursome notes of stone-fruit and citrus. You can consume them young or keep them in the cellar for a number of years to mature.
We've found people who love big, bold and buttery Chardonnay and people who love soft and fruity Chardonnay, both love Great Southern Chardy.
5. Chardonnay is the perfect winter white wine
If you're a white wine drinker but struggle to sip cold wine when it's freezing outside then Chardonnay is the answer. The palate richness works so well with winter dishes like roast chicken and fish curry.
But not only that, Chardonnay is typically best served at 'cellar temperature' instead of being completely chilled. By letting the wine warm up a bit, it helps to bring out the creamy, fruit-driven flavours in the wine which are perfectly balanced by that trademark Great Southern Chardonnay acidity.
We don't know about you, but we are mighty thirsty now! If you want to experience a great expression of Great Southern Chardonnay, simply pop over to our wine store and grab a bottle of Great Southern Chardonnay for yourself (or 12!).