3 December 2021 | Awards & Reviews | Joanne Bradbury
3drops Wins Global Fine Wine Challenge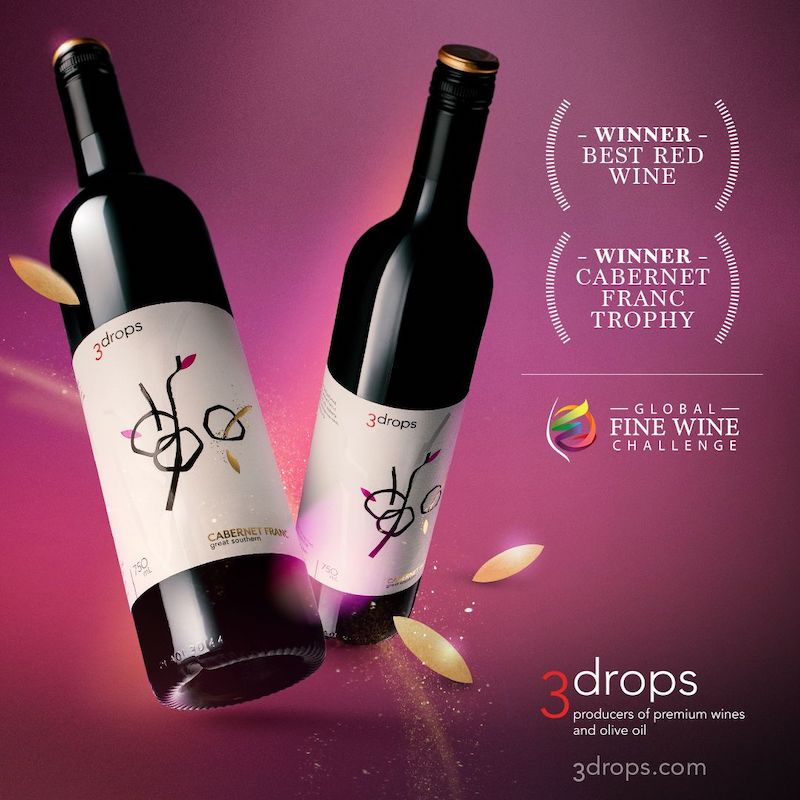 Mt Barker winery 3drops has won one of the world's most prestigious wine awards for its 2018 Cabernet Franc.
The wine was named Best Red in Show at the invitation only Global Fine Wine Challenge with results announced today.
It also won top trophy honours in the Class 15 – Cabernet Franc in the competition which features the best New World wines.
The competition is restricted to the top 120 wines from each country, including Canada, New Zealand, North America and South Africa.
Global Fine Wine Challenge Director, Ross Anderson said the award to 3drops:
"is a phenomenal result when you look at the wines they were up against, it is just staggering".
Mr Anderson said the awards were akin to the Olympics of the wine industry with countries competing against each other.
The awards, previously known as the Six Nations Wine Challenge (est: 2003) didn't run last year because of COVID-19 restrictions, but in 2019 was dominated heavily by entries from New Zealand
The 2019 Wine of Show went to Canada's 2013 Henry of Pelham Family Estate Cuvee Catharine Cart Blanche Blanc de Blanc. The 2019 Red Wine of Show went to America's Hartford Family Winery Dina's Vineyard Old Vine Zinfandel 2016. New Zealand's Church Road Grand Reserve Chardonnay 2018 took out the 2019 White Wine of Show.
The last time an Australian wine won Wine of Show was in 2017 when Xanadu Reserve Chardonnay 2015 took out the Chardonnay trophy, White Wine of Show and Wine of Show awards.
There are no recorded Australian Red Wine's having ever secured the Red Wine of Show trophy.
Owner of 3drops, Joanne Bradbury, said the award was a credit to the efforts of winemaker Rob Diletti who had been making 3drops wines since 2003 and to viticulturist Ray Williams who planted the original vines and still manages the Wragg Road and Patterson's vineyards.

Ms Bradbury said the Cabernet Franc trophy and the Best Red of Show were 3drops most significant awards to date.
"We are excited and honoured that a Cabernet Franc grown on our family farm has been selected as the best red wine in the Global Fine Wine Challenge."
3drops has been invited to participate in the awards several times in the past and has previously received a gold medal for its 2017 Merlot in the competition.
"Being able to benchmark our wines against other New World wine producers is extremely valuable," Ms Bradbury said.
"As a boutique producer, in a relatively isolated and distant wine producing region, winning the Cabernet Franc trophy and the Best Red of a global show is an opportunity to showcase the 3drops brand and the Great Southern region on the world stage.
"It's also an opportunity to celebrate Cabernet Franc as a stand-alone variety, as it is often grown just for blending with other Bordeaux varietals.
"Despite making our 3drops Cabernets blend since 2001, the 2018 vintage was the first time we produced a varietal Cabernet Franc.
"As our Cabernet Franc vines have matured (they were planted in 1999) we have seen the quality of the fruit become quite exceptional. Cabernet Franc as a variety appears particularly well suited to the cool climate wine growing of our Great Southern vineyard. The vines grow on a gentle south facing protected slope in ancient gravelly loam soil."
3drops is one of three Australian winners in the Global Fine Wine Challenge this year.
Morris of Rutherglen picked up the inaugural trophy for fortified wines and Thistledown Wines in the Adelaide Hills picked up the Other Red, (Light to Medium) trophy with their Sands of Time Grenache.
Mr Anderson said the quality of wines this year was the best for the past 10 years.
"This year far exceeded my expectations in every way," he said.
Because of Covid judges couldn't be flown in for the judging in Sydney so for the first time ever a panel of Sydney-based Masters of Wine were nominated to judge the show.
Mr Anderson said there are 420 Masters of Wine in the world who provide a global view of wine rather than a regional or country specific view, which made the Global Fine Wine Challenge significant as an international wine authority.
For more information or interviews contact Newton Ganska Communications on (08) 6468 4489 or info@newtonganska.com.au
Comments
Commenting has been turned off.